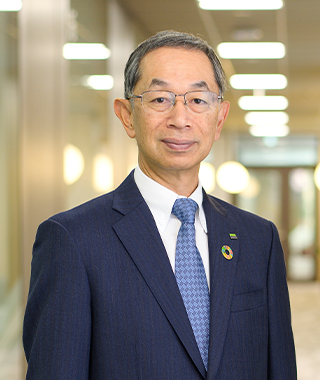 I would like to take this opportunity to thank our stakeholders for their continued support and understanding.
During the consolidated fiscal year ended December 31, 2022, restrictions on economic activities were imposed in some countries and regions due to the impact of COVID-19 and the reductions in fiscal and monetary stimulus measures in the U.S. and other countries put the brakes on the global economy, which has been undergoing a gradual recover y in the previous year. In addition, the Russian invasion of Ukraine in February led to a sharp rise in global prices for raw materials, energy, and food and concerns about procurement, which increased fears of a global economic recession, resulting in a generally difficult business environment amid an uncertain outlook.
Amid this economic climate, the logistics industry lacked strength compared to the previous year, when cargo movement recovered, with the exception of a few sectors in domestic logistics such as production machinery in connection with corporate capital investment, or electrical and information and telecommunication equipment, which were affected by a reactionary increase following the lockdowns. Personal consumption also stagnated due to the rise in consumer prices caused by inflation and other factors, as well as sluggish demand for food services and other services due to priority measures to prevent the spread of COVID-19. As a result of such factors, overall cargo movements remained weak.
In international logistics, international ocean cargo transportation suffered from container stoppages at major European ports and an imbalance between supply and demand due to the lockdowns in China, while international air cargo transportation experienced fewer flights due to flight restrictions over Russia amid a delayed recovery in passenger demand. Nonetheless, both ocean and air cargo transportation freight rates continued to soar, as had been the case since the previous year. As a result, the international freight forwarding business and overseas business performed particularly well, despite global supply chain disruptions and revisions associated with them.
This fiscal year marked the fourth year of the five-year NX Group Business Plan 2023 ~"Dynamic Growth"~, which the NX Group began executing in April 2019. As we have endeavored to create a firmer management foundation, we have come together as a united group to achieve the targets defined in our fiscal 2023 business plan and become a logistics company with a strong presence in the global market, as described in long-term vision as we head toward our 100th anniversary in the year 2037.
In FY2023, the entire NX Group will continue making united efforts to achieve the targets based on the business plan.
[Business growth strategy]
In the growth strategy for our core businesses, we will accelerate our efforts in the five priority industries and non-Japanese customers in our "customer (industry)-focused" approach and expand our areas of contribution in our customers' global supply chains by strengthening our air and ocean transportation business foundation and logistics business in our "business-focused" approach. In our "area-focused" approach, we will expand our business in emerging areas with a focus on strengthening primary industries.
Regarding the strategy to enhance domestic businesses in Japan, to further improve profitability and strengthen the management foundation of the logistics business in Japan, which is the core of the Group's business, we will strengthen the business by spinning off the security and transportation businesses, streamlining the administrative organization and promote further reform of administrative processes, concentrating management resources on major markets such as the Kanto, Chukyo, and Kinki regions, and reviewing the business portfolio, including the restructuring of businesses that span across the Group.
[Efforts to implement our long-term vision]
Under reinforcing functions in support of our initiatives, the Group will expand the practical application of advanced logistics technologies and the use of technologies such as AI and RPA in IT and DX strategies to ensure competitive advantage, improve productivity, and achieve work-style reform by eliminating labor shortages and realizing safe, secure, and sophisticated operations, as well as to promote a response to digital transformation as a Group.
With regards to the establishment of ESG management for sustainable growth and corporate value enhancement, to address issues surrounding sustainability, we will expand our contribution to customers through the development and provision of intermodal services that combine railway and ocean transportation. We will also promote further reduction of CO2 emissions through the uses of renewable energy, electrification of vehicles and changing the facility lightings to LEDs.
In addition, we will further promote diversity management to strengthen employee engagement with the aim of transforming into a company that makes employees feel satisfied and fulfilled. With regards to governance enhancement, we will implement various measures to further strengthen the global Group governance structure.
The NX Group will continue to accelerate its transformation under the holding structure to realize its long-term vision and strive to achieve further growth and enhance our corporate value in order to meet the expectations of all stakeholders. We would be grateful for your continued understanding and support.