NX Vietnam participates in Vietnam International Logistics Exhibition (VILOG 2023)
Nippon Express (Vietnam) Co., Ltd. (President: Takushi Mogi; hereinafter, "NX Vietnam"), a group company of NIPPON EXPRESS HOLDINGS, INC. (President: Mitsuru Saito), took part in the Vietnam International Logistics Exhibition (VILOG 2023) held at the Saigon Exhibition & Convention Center in Ho Chi Minh City, Vietnam, from Thursday, August 10 through Saturday, August 12.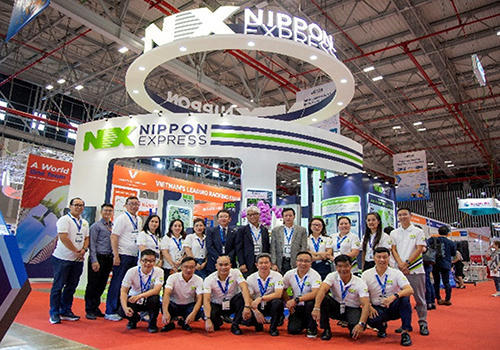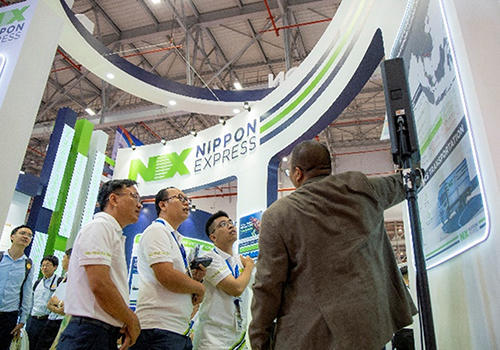 VILOG 2023 is the first logistics exhibition in Vietnam organized by the Vietnam Logistics Service Enterprises Association (VLA) and VINEXAD. The event was held with the aims of promoting industrial development in Vietnam, attracting more foreign investment, and helping to establish a green logistics ecosystem. A total of 150 companies from 15 countries, including Vietnam itself, participated in the event by operating nearly 250 booths introducing their logistics services and logistics-related technologies/solutions.
NX Vietnam's booth introduced the strengths of Nippon Express' global network and logistics services, its e-light pallet (a new pallet made of expanded polystyrene (EPS) that reduces transport costs), and its international air transport services using reusable high-performance temperature-controlled containers. The company also promoted its own logistics services and logistics solutions in Vietnam, including the newly opened NX VSIP2 Logistics Center and NX Yen Phong Logistics Center. Furthermore, the booth hosted events that encouraged visitors to casually take an interest in the NX Group's services by, for instance, playing games using words related to NX Vietnam, helping the booth draw in more than 800 visitors as well as earn the Best Booth Design Award.
The NX Group will continue supporting its customers' global business expansion by strengthening relationships and creating new partnerships with customers and relevant organizations through participation in exhibitions around the world.