NIPPON EXPRESS HOLDINGS launches "e-NX Quote" and "e-NX Visibility" digital forwarding services
-- New services offer online quotation and tracking functionality --
NIPPON EXPRESS HOLDINGS, INC. (President: Mitsuru Saito), has launched two new digital forwarding services - "e-NX Quote" and "e-NX Visibility" - that enable online quotations and tracking.
e-NX Quote : https://nippon-express-portal.force.com/s/
e-NX Visibility : https://e-nx.nipponexpress.com/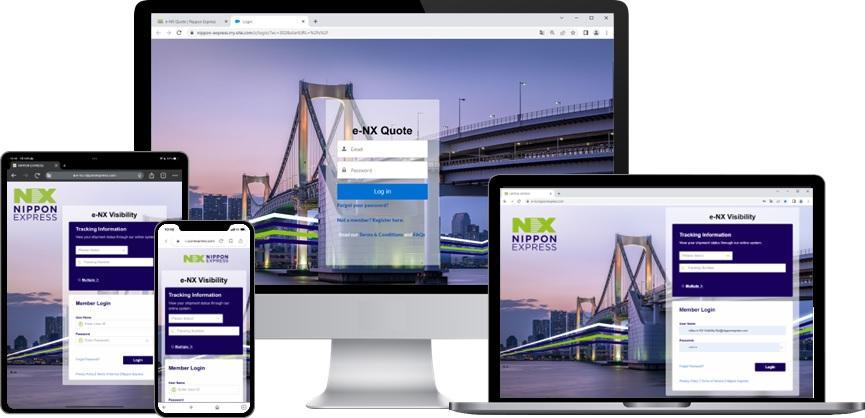 [Overview of new services]
① e-NX Quote
Freight quotes for international shipments have heretofore often been time-consuming and burdensome for customers forced to make inquiries by e-mail or telephone. The newly developed "e-NX Quote" provides instant freight quotes by online entry of such information as the types and quantities of the goods to be shipped and their origins/destinations.
This service is now available for international ocean freight forwarding of both full container loads (FCL) and less than container loads (LCL), with departures from ports in Europe and East Asia on lanes linking up ports in the Americas, Europe, East Asia, South Asia/Oceania and Japan*. The languages supported are English, Japanese, Chinese, and Spanish.
Going forward, the service's functionality will be expanded by increasing the number of lanes covered and extending the scope to include estimates for international air transport.
② e-NX Visibility
Tracking of international transport has conventionally been based on transport units (BL units), making it difficult to ascertain the overall status of commercial transport. The newly developed "e-NX Visibility" integrates tracking systems for ocean and air transport and is designed for a wide range of users.
A members-only feature is scheduled for release in October 2023. In addition to management functions such as more advanced tracking and dashboard screen display of shipment status, functions such as data output for Nippon Express's international shipment CO2 emissions calculation tool (NX-Green Calculator), notifications of irregularities, and visualization of temperature logger data. In addition, an order management mechanism will be added to existing functions to support tracking on order-receipt and order-placement bases, enabling the system to meet a wider range of needs. This will allow visualization of entire supply chains from order placement to delivery completion and optimize customers' supply-chain processes.
Functions provided
Publicly accessible functions
(1) Visualization of transport status from order to delivery
(2) Early detection alerts of delays and other irregularities
Members-only functions (scheduled to start in October)
(1) Tracking through advanced search and notification settings
(2) Automation of order management and confirmation of shipping availability for suppliers
(3) Dashboard screen display of latest shipment status (KPI and Exception/Watchlist information)
(4) Supplier evaluation using KPI in supply chain quality analysis, support for improving logistics efficiency
(5) Provision of transport data reports
The Nippon Express Group will be accelerating the digital transformation of its international transport operations by making full use of IT and digital technologies and working to develop optimal logistics solutions that support its customers' global business development and provide new value to customers around the world.
*Countries/regions where the "e-NX Quote" service is available (as of July 27)