Nippon Express de Mexico completes construction of Guanajuato-Apaseo Logistics Center
Nippon Express de Mexico S.A. de C.V. (Motohiro Suzuki, President; hereinafter, "NE Mexico"), a local subsidiary of Nippon Express Co., Ltd. (Mitsuru Saito, President), has completed construction of its Guanajuato-Apaseo Logistics Center within the Colinas de Apaseo Industrial Park in the Mexican state of Guanajuato, and will begin operations at this Center on Monday, October 5.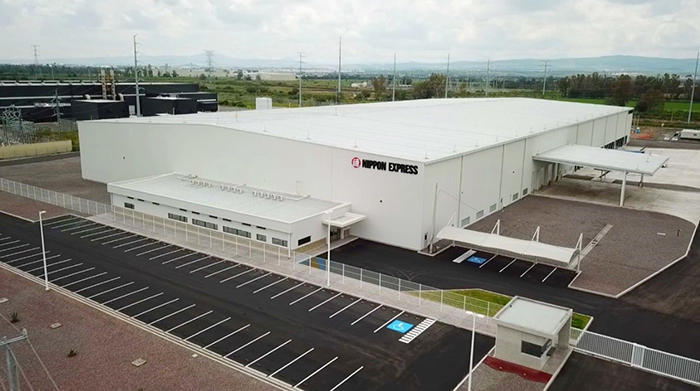 (Exterior view of new warehouse)
Numerous automotive set manufacturers as well as supplier companies have set up operations in the State of Guanajuato, forming together with counterparts in nearby Aguascalientes, Queretaro, San Luis Potosi and other states in the Central Mexican Plateau (Bajio region) a major industrial cluster, and it is expected that customer demand for warehouse storage of automotive-related parts and materials will climb still further.
This new Center was designed in-house from the drawing board based on NE Mexico's accumulated know-how in automotive-related logistics and then specially constructed to accommodate such logistics, enabling the Center to provide high value-added services coupled to customers' production plans. Consolidating the existing locations at Queretaro and Salamanca should also bring about greater operational efficiency.
[Highlights of the Guanajuato-Apaseo Logistics Center]
With incoming and outgoing truck docks completely segregated, the Center emphasizes work efficiency in automotive-related logistics and is optimally designed for cross-docking operations.
The Center is advantageously located near the warehouses of major set manufacturers, suppliers, etc., to serve as a collection hub for milk-run transport and US-Mexico traffic.
The facility will be linked into Nippon Express' global inventory control system REWARDS to serve as a transfer center that provides just-in-time delivery coupled to customers' production plans.
The Center has an IMMEX(*) license, required for bonded processing in Mexico.
To improve work efficiency, a canopy area has been established for loading/unloading side-open trailers to be newly introduced into Mexico (side-open trailers will be used from November 2020).
The installation of 34 dock levelers and the designation of shipping areas for each hour make it possible to synchronize incoming/outgoing shipments with customers' production lines.
IMMEX system
Licensed companies are eligible for tax exemptions when importing materials/parts that are to be shipped to the US or other locations outside Mexico after final processing.

(Side-open container)

(Interior view of new warehouse)
NE Mexico has established this Center to enhance its nationwide logistics services and especially the services it provides to the automotive industry, positioned as a priority industry in the Nippon Express Group's Medium-term Management Plan.
URL: https://api01-platform.stream.co.jp/apiservice/plt3/NDA3OQ%3d%3d%23MjM5%23280%23168%230%2337E2A0D9E400%23MDoyOjc6YTpmOzEw%23
[Profile of new warehouse]
Name
Nippon Express de Mexico, S.A. de C.V. Guanajuato-Apaseo Logistics Center
Address
Parque Industrial Colinas de Apaseo, Apaseo El Grande, Guanajuato, Mexico
Structure
Steel-framed single-story building
Site area
62,370m2
Total floor area
15,982m2
(Breakdown)
Warehouse space:14,196m2
Office:540m2
Eave area, etc.:1,246m2
Principal features
Raised-floor platform, low-floor platform (canopy area), 24-hour security, CCTV, infrared fire alarms, LED lighting
Start of operations
Monday, October 5, 2020