Nippon Express to participate for first time in SEMICON Japan Virtual
Nippon Express Co., Ltd. (Mitsuru Saito, President), will be participating for the first time in SEMICON Japan Virtual, a four-day virtual semiconductor exhibition being held online from Monday, December 14 to Thursday, December 17.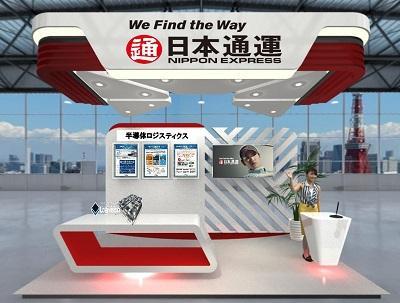 (Conceptual image of virtual booth)
SEMICON Japan Virtual is an international trade show for the electronics manufacturing supply chain, covering everything from the full range of semiconductor device manufacturing processes to SMART applications for automobiles and IoT devices. This trade show is one of the largest industry events held in Japan, with around 700 companies participating each year. Because of the coronavirus outbreak, this year's show will take place online in a virtual format rather than in person, and Nippon Express will be creating a booth to present a panel at the Web-based exhibition venue.
[Services to be exhibited (panel content)]
Total logistics solutions: Nippon Express's solutions offer customers one-stop support in terms of not only logistics but information, authentication/quality, and commercial distribution as well.
Semiconductor manufacturing equipment transport: Nippon Express has an extensive track record of transport both inside and outside Japan and provides high-quality transport services befitting this track record. Storage and distribution of devices and parts are available worldwide utilizing the Company's global network.
Picking, down-packaging and other value-added operations: Nippon Express provides picking, down-packaging, inspection, packing and other extra services at its logistics centers. These services support an environment allowing customers to concentrate on their core operations by outsourcing operations heretofore carried out at their own plants to Nippon Express.
The Company's "Logivision" vibration-dampening transport service will also be presented as a virtual showpiece.
Nippon Express will be introducing a broad range of logistics services connected with the transport and storage of semiconductor-related goods and proposing solutions for various issues faced by customers.
[Overview of exhibition]
| | |
| --- | --- |
| Name of exhibition | SEMICON Japan Virtual |
| Dates | Monday, December 14 - Thursday, December 17, 2020 |
| Venue hours | 10:00 - 17:00 |
| Venue | Exhibition being held online |
| Host | SEMI |
| Host's website | https://www.semiconjapan.org/jp |